Project Runway - 5.11
Suede is gone!

Good night, one-shouldered silhouettes,
Good night, third person self-referencing asshattedness,
Good night, blue fauxhawk atop bleached hair,
Good night, bisexual Sagittarius!
Welcome, Judges!
Nina, I see you are still tiny, but your rack is looking formidable. Good for you!
Mikey, you have taken full advantage of the absence of Blayne to turn a shade of Day-Glo orange that we haven't seen since the last time I hit up a nacho truck for some nuclear cheese on my tortilla chips.
And Heidi, my lovely frau, you have managed to cover up even more of your legs than normal. Could you be doing a reverse striptease for us? That reminds me of an episode of
Night Court
, in which Prince Maurice of Kapua (Episode "Prince of a Guy") begs Public Defender Christine Sullivan to "put it on, put it on!" God, that was a great show...I miss the 80's.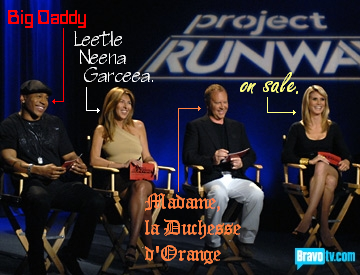 And our guest judge, LL Cool J, or as he is known to his mama, James Todd Smith. I myself prefer the nickname that LeShaun gave him in his Top 10 hit,
"Doin' It"
, "Big Daddy".
Say the monikers with me ladies, and as you savor each syllable, think of those luscious, pillowy lips...yes, yes,
YES
!!!
*dies of hormone overload*
Okay, so the challenge this week was a redux of Season II, Episode 10: Makeover. Yeah, real original, Bravo. (Cheap bastards.) The designers will make over each other in the image of their music "identity".
All right, let's triple-shift this b!tch into gear and "git 'er done" already!
The Fierce
Jerell for Kenley (Pop)
-
DAMN
. I'd hit that. Oh, wait, Kenley, is that you?
Nice
legs, babe. I do wish Jerell had foregone the fugly boots, though, because I think they detract from the fabulous that is the sculpted perfection of your inner knees. Okay, enough with the drool, let's break it down. At this moment in time, pop is all about the virgin-cum-slut, and this captures the look. We have a modified version of the skirt that Julia Roberts wore in her career-making role as "I-never-kiss-on-the-mouth-but-I-hav
e-no-problem-deepthroating-a-stranger's-m
eatstick"
Vivian
in
Pretty Woman
(1990), the high neck of Britney Spears from
"Oops I Did It Again"
and a hint of Gwen Stefani in the sparkly bra and see-through top. Big hair, a la Aubrey O'Day of
Danity Kane
, and a little purple vest that gives just enough of a punch of anime-flavored color while it tempts the boys with very unsubtle hints at the fullness of her bust. My preferred pop tart is
Miss Katy Perry
, but I can see the mass-market appeal of this look. Not bad at all, Miss Jerell.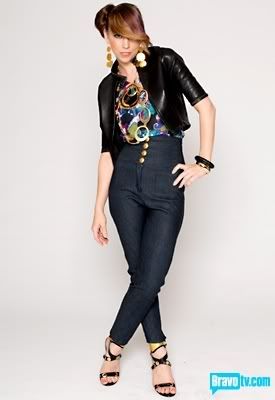 Kenley for Leanne (Hip-Hop)
- Mr. Smith says this wasn't hip-hop. Well he's obviously been out of the game for some time because both Keyshia Cole and Rihanna, two of the bigger hip-hop ladies in the game today, are rocking the tight, high-waisted look (
"Let It Go"
and
"Umbrella"
) and the top of the look is very Mary J. Blige (
"Not Today"
). What may have confused Mr. Smith is that Leanne's look is modern and reminiscent of this milennium, while his majority of experience as an artist was in the 90's. I myself like the look. It's good for going out, performing in a music video aimed at denouncing men for the rat bastards they can be with her crew and still stamped with Kenley (love those buttons on the pants, girl!). I liked it.
The Flat
Korto for Suede (Punk)
- Hello, Hot Topic. When I think punk, I think of Cyndi Lauper (whee!) Billy Idol (yum!), the Clash (yawn...), the Sex Pistols (Johnny, honey, you need a bath,
pronto
), Nirvana (like the Beatles, they are highly overrated) and Green Day (even more highly overrated). Punk is rebellion against the establishment, but since the establishment is vending it in stores such as the aforementioned HT, it's not very rebellious is it? Kind of like going to college and finding that the first thing your fellow students do is pierce something, tattoo something, or get a drastic hair cut, dye it a strange color and think they're "unique". Please. This look is available in any online goth shop. Nothing interesting, original or especially noteworthy. Korto, I love you, girl, but this was pretty frickin' sad.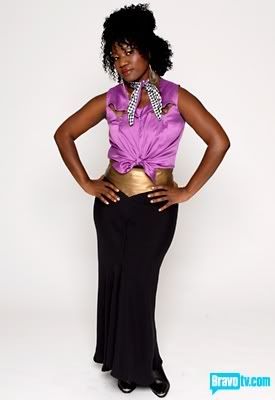 Leanne for Korto (Country)
- Hee. Country. I like some of the songs, but this genre usually makes me roll my eyes, what with the inevitable references to Jesus (take the wheel! save my soul! lower the prices of gas and prove that we're not uneducated hicks by showing that dinosaurs and humans did, in fact, coexist!) and the reliance on shiny, big and voluminous as part of the physical representation. Leanne could have stretched it by making Korto's hair even bigger, making the skirt into a pair of split riding pants, and taking a page from Miss Jerell's book and putting rhinestones all over that top. And while I'm ranting, may I say that the upside-down Wonder Woman belt is just hideous? Thanks, but no thanks, Leanne. When the hell will you get gone already?!
The Rest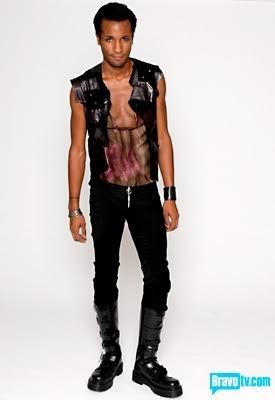 Suede for Jerell (Rock)
- Jerell...those pants are awesome. Kind of like the ones
Ronnie
wore in my favorite episode of
Make Me A Supermodel
(pics from a dear friend, just keep scrolling on down and you'll see what I mean - thanks,
bugchicklv
and
superherofan
!!!). Rock 'n roll is all about sex, pain, snorting cocaine, heartbreak, sex, energy, doing heroin and more sex. This makes me think of what Prince might wear if he had the body for it today (he's still trim, but not as gaunt as he used to be). The vest is good (ventilation while sweating on stage), but what this look needed was more edge and perhaps a little political or charitable-cause embellishment (since a lot of rockers are very active in both of those arenas). Jerell's got the lack of flesh to play today's manorexic rocker, but I'd lose the undershirt and put some more leather into the look.
Now it's a race between Korto, Kenley, Leanne and Jerell for top place. My thoughts? Based on the work produced, I would say that it's
Korto
,
Kenley
and
Leanne
. Why? Joe and Suede are "out" and Jerell's work doesn't seem very cohesive.
Much love,
Green Owl
The Gods, they have smiled upon their snarky little sweetheart.