Project Runway - 5.07
Keith has been auf'd, which means there will be no more crappy half-@$$ed "deconstructed" excrement flouncing its way down the catwalk. Bye-bye, Mr. Pierced Nipples. Whee!
*does a little dance*
Now down to business. First off, I love-love-LOVE that Laura Bennett is pinch-hitting for Nina Garcia. As far as I am concerned, Ms. Bennett is one of the very few PR contestants (along with Austin Scarlett) with taste, elegance, wit and superior construction. I would buy and wear almost anything she produces.
As for that alligator-skinned boho hag (or is it "h0-bo slag"?) (Rachael Zoe), I could have lived without seeing her again. Note to the Z-listed: real women are not built like little boys. Go peddle your styling tips in Thailand if you're so dead on presenting an image of the feminine that does not include breasts, hips or body fat. I'm sure the pedophiles on their sex-with-minors vacations would appreciate your taste in clothing.
And of course, we have the Orange Duchess herself, Michael Kors, and our hostess, Heidi, who seems to be having issues taking Nina Garcia's admonishment regarding "tight, shiny and short" and has been looking awfully cheap (and shaggy - look at that hair, people!) these last seven episodes.
The challenge this week was to construct a look from materials found in cars.
The Pretty
Keith
- I know, I know - what the hell is Keith doing in "the pretty" when I am so happy to see him go? I'm glad he's out because his previous swatch-dog work was not attractive at all and I cannot see anyone wanting to patronize him; I'm putting him in this category for this challenge because I really like the combination of elements here. The halter top with the wide belt and the khaki skirt are all classic and elegant - two words I would never associate with Keith. It's as if he was channeling someone else when he made this.
Would I Wear This?
- Yes to everything but the skirt, which is too short for me.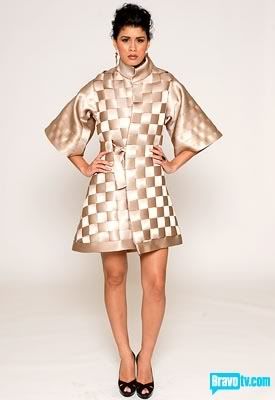 Korto
- Finally back in my good graces with this gorgeous coat! Look at the way it nips in at the waist and ends below the elbows and hits the mid-thigh at exactly the right place...*swoons*...the weaving is lovely and the finishing is exemplary. The styling of the model's hair, her makeup, her accessories and her shoes are all so very, very perfect. There's nothing else to say except that Korto was robbed.
Would I Wear It?
- Absolutely. This is a great coat for spring or fall I would probably wear it until it fell apart.
The Ugly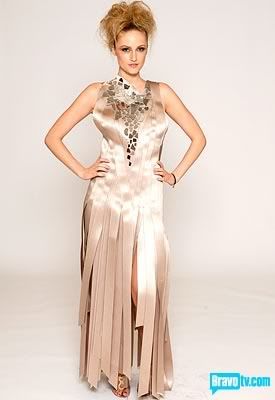 Blayne
- Bad fit, anemic color and the hairstyle and makeup do nothing for his poor model. The bottom makes me think of a carwash or those plastic strips that you find in grocery stores hanging down over the entrance to the cold storage in the back. The stuff at the neck would have been interesting if he had shortened the hem and made it into a cocktail dress, but I'm too distracted by the strips to look up.
Joe
- The top makes me think of skeevy S&M clubwear, like something a gay motorcross biker groupie would wear when trying to pick up Pink's ex-husband. And the skirt has a weird seam down the middle as well as what looks like a little bit of a bubble hem. Gross! I can't see anyone wearing this except maybe Britney Spears if she's shilling for a role in a superhero movie (Princess Has-Been). That hair style is bad, like something from a Jem cartoon, and those little booties do not suit anyone when worn with a miniskirt. Ick.
Jerell
- I can't understand Jerell's aesthetic - the only coherence I see is "butt-ugly". The top probably had promise at some point, but it's cut in such an odd manner and the panels at the center and sides are superfluous. That skirt is too short for anyone to wear well and the shaping of those panels is a little mismatched. What makes me want to gouge my eyes out are the styling of the hair and makeup (atrocious) and the sight of those fugly boots that Emily's model wore in the first episode. Get it together, Jerell!
The Rest
Kenley
- Hot and fierce until we hit the belt and then it goes downhill. Kenley lost Shannone during this episode and had to make do with Germaine (Kelli's model). Germaine wears a red lip very nicely and the black top and champagne belt are luxe, but the zebr-ish peplum makes me weep. Why, Kenley, why? You were doing so well! Didn't you get the memo about animal prints from two episodes ago? And that skirt paired with those hideous shoes that Leanne seems to love so much breaks my heart. Don't do this again, young lady!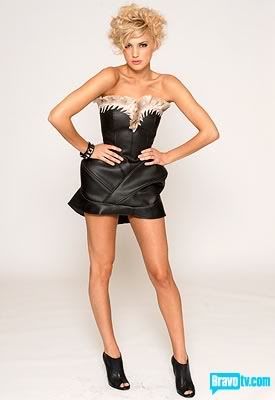 Leanne
- Hello, Victoria Beckham. The model looks hot with regards to hair and makeup, but I don't think this was worthy of the win. The skirt is way too short and those protuberances at the hips make me think this is (to quote Christian Siriano) "a hot tranny mess" - said HTM could use those bulges to hide his erection if he go too excited rubbing up against someone in a club and no one would ever know. Once again, booties + miniskirt = tacky. And toeless booties are like @$$-less chaps: slutty, slutty, slutty. Someone needs to prune the Blueballs accessories wall and soon!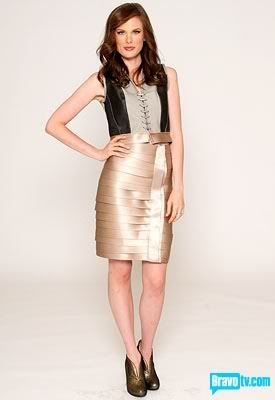 Stella
- It seems like Stella and Keith were toking from the same bong this challenge - sleeveless top, belt, skirt, but bland and boring on Stella's part. And those goddamn booties again - I'm upping my offer from $5 to $10 for someone to put them in the garbage.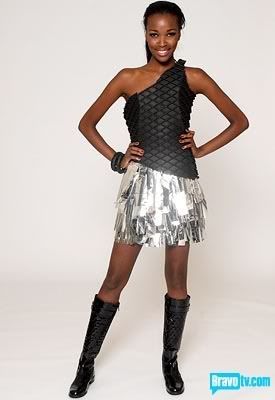 Suede
- Oh. My. God. Keith has infected Suede with his love of the Biore strips! Run for your lives!!! The top is cute, the boots are slammin', but that skirt needs to be drenched in lighter fluid and burned.
Terri - I like the top - it's cute and I could see a hot, sexy mama like Mary J. Blige working the sh!t out of it, but those pants will make most women look like the Michelin Man's daughter.
Current Picks For Fashion Week: Kenley, Korto, Stella.
Much love,
Green Owl
P.S. Varla Jean Merman's manly incarnation once again has activated my drool reflex. Click
here
for the yumminess (warning: gratuitous butt shot included, so possibly NSFW).
Yes! Twice now I have been pleased with the latest human sacrifice to the runway gods!